What are Pollutants?
Are pollutants only noxious chemicals like petrochemicals, acids, and contaminated water?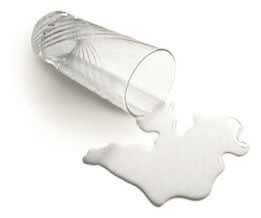 Milk truck overturns releasing dairy product into a city drain system. The milk is considered a pollutant when it hits the ground.
Chlorinated water released into a watercourse has chlorine in levels not naturally occurring in nature resulting in damage to the ecosystem.
Pollutants or contaminants are substances that escape confinement resulting in them being where they should not be.
Piercing the Corporate Veil
Compared to other key insurance policies that protect your company like Property and Automobile insurance, Pollution policies are relative newcomers to the insurance marketplace. Many insurance buyers do not yet fully understand the critical protection they provide or how one policy can differ significantly from another. These differences can affect your company's ability to survive a pollution spill or escape.
Pollution events have evolved in a very interesting way in the past decade. No longer does the corporate veil (Ltd., Inc., Corp.) protect organizations and their owners. Polluter pay legislation has all parties to a pollutant release responsible for the clean-up and if required, ongoing monitoring. Judgements can deplete insurance policies resulting in companies being liquidated. If amounts are still owing, legislation allows seizure of personal wealth; investments, homes, vehicles and on and on until full remediation is complete and judgements are satisfied.
One Size Does Not Fit All
Pollution policies are not one size fit all and often insurance brokers are guilty of selling off the shelf solutions. Consultants, contractors and remediators each has a different risk footprint requiring a unique pollution solution.
Sudden & Accidental vs. Gradual
For instance, some policies afford coverage if the escape is sudden rather than gradual, giving you a finite and short period to discover and report the escape. If you miss the deadline, you will have to find another way to fund remediation.
Fines & Penalties
Defending your company in the face of a spill is paid for with 'defense costs', but what if you have fines and penalties levied against you. What if your company receives an order to pay punitive costs? These can be covered, but not if your broker does not know to ask.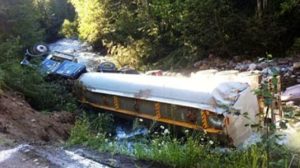 A truck driver, and the company he worked for, are facing hefty fines for a massive jet fuel spill that contaminated a B.C. waterway
The driver was transporting 35,000 litres of jet fuel, meant for helicopters fighting a nearby wildfire, when he crashed the truck and slid into Lemon Creek in the Slocan Valley in B.C.'s West Kootenay region.
He was later convicted on one count under the Environmental Management Act for causing the leak.
He was fined $20,000 in Nelson Provincial Court last week. He has two years to pay the fine,      CBC.ca Posted Feb 27, 2020
---
Edmonton builder guilty under Fisheries Act for water main break
Clark Builders was fined $285,000 this week for releasing 12 million litres of chlorinated water into the North Saskatchewan River.
The Edmonton builder pleaded guilty to one count under Fisheries Act after a subcontractor hit a water main while working on a project at the Royal Glenora Club.      CBC.ca Posted January 13, 2012
Pay on Behalf of or Reimbursement
Did you ever think your company's liquidity would be a factor in surviving a covered loss? Some pollution policies will reimburse you after you pay the claim out of your own pocket. Are you liquid enough to pay a large remediation bill and wait to be reimbursed?
Triggers
Many pollution policies will only respond with a third party 'trigger' meaning a claim needs to be brought by someone outside of your company who is impacted by a spill or escape. Without a third party bringing action for a spill at your premises, your pollution policy will not respond. So what? Banks will not finance land transactions without environmental assessments. No trigger, no claim, no remediation, no sale.
Premises
If your company handles potential pollutants in volume like machine oils, paints or other chemicals, protecting your organization from a spill or escape is critical. Why? Legislation has evolved to a 'polluter pay' model rather than allowing it to be swept under the carpet as we have seen historically.
If a pollutant can escape your premises, you are vulnerable to actions from other (3rd) parties including government bodies empowered by legislation; Alberta Environmental Protection and Enhancement Act, Alberta Fisheries Act.
Pollutants that cannot escape your premises pose different challenges, probably most problematic is the eventual sale of your business or property. As a liability against your organization, historical spills will need to be remediated prior to sale or the liability transferred to the buyer reducing the value of the sale. Spills and escapes left for periods of time before remediation will migrate meaning the scope and cost to remediate only increases with time.
Additionally, the default position of most pollution policies requires a 3rd party trigger which means coverage can only be invoked by someone other than you making a claim. If your escape of pollutants is on your site with no risk of migrating off, it is unlikely another (3rd) party will be able to make a claim, leaving you with a pollution policy that cannot respond. Ensuring that coverage has been enhanced with a 1st party trigger is critical when obtaining Premises Pollution coverage.
Products Pollution
As the name suggests, Products Pollution coverage protects your organization from allegations of a pollution event related to your product. Products that carry, contain, move, or otherwise process pollutants such as: drums, bins, tanks, pipes, tubing or other machinery/equipment all have the propensity to fail. Even if your product does not fail, you have to deal with the allegation that it did until proven otherwise and this can mean costly defence costs, especially if your product goes into the US, a more litigious legal environment.
Even if the escape of pollutants related to your product is solely the fault of the end user, you may have to defend your organization in court. Joint and several liability is a legal term for a responsibility that is shared by two or more parties to a lawsuit. A wronged party may sue any or all of them, and collect the total damages awarded from any or all of them. If one party is unable to pay, the others named must pay more than their share even if the court attributes only 1% of fault to your organization.
Contact us for a free Pollution insurance audit
Make sure your company, your cash flow and your personal wealth are protected. Reach out to us using the Quick Contact box on the upper right of this page.
---
We Can Help!
Thor Insurance and Financial is a locally owned Northern Alberta insurance and benefits brokerage with roots going back to 1979. Our management team has over 100 years of commercial insurance experience, which we leverage to serve our commercial and industrial clients … Local Access, Global Reach.
Running and growing a successful business is complicated. We partner with companies like yours to support the areas of your business you don't have time to become an expert in. No "cookie-cutter" insurance policies; we work with our clients in a holistic fashion to create solutions. In addition to insurance and employee benefits solutions, we offer
Financial Planning, Tax and Succession Advice,
Business Continuity Planning and Business Interruption analysis,
Key Person and Life Insurance solutions,
Cyber Risk Assessments, pre-loss staff training and post-loss remediation,
Human Resources solutions ranging from Safety Manuals, Employee Manuals, customizable Employment Contracts,
Risk control support and development of documentation such as Spill Response plan and Drug & Alcohol policies, Fleet management guides,
Group & VIP Personal Insurance,
Surety/Bonding,
Online Registry, renew your fleet registration from the comfort of your computer