As a manufacturer, you face unique challenges to your business. Strong processes and a proactive risk control program will reduce but not eliminate losses to productivity. Whether your organization suffers a fire, frivolous legal action or a cyber attack, a strong insurance program will always be the backstop making the difference between thriving, just surviving or failing.
Setting up an insurance policy is only a part of the solution to safeguard your business.
How can you meaningfully impact your cost of insurance?
Claims and lack of proper risk control measures are the largest drivers of insurance cost increases.
The only way to differentiate your business in this space is to become 'best in class' at managing your risk. Insurance policies become contingency plans and actively managing your risk is a primary activity. Every insurance solution has a complimenting risk control activity.
Risk Control Strategies
We will work with you to set up insurance policies customized to your specific needs, but we don't stop there. Insurance policies should act as backstops, supplemented by strong risk control solutions. The best insurance claims are the ones that never happen.
Cyber risks including ransomware, denial of service attacks, privacy breaches is a quickly emerging threat to businesses of all sizes. A strong cyber insurance policy backed up with pre-loss training and post-loss response can make the difference between surviving a cyber intrusion or data breach and having your business fail, 90% of cyber-attacks come via email,. It is not 'if', but 'when' you will be impacted by a cyber incursion,
Business Continuity Planning in conjunction with a strong Business Interruption insurance solution can make the difference between just surviving an insurance claim and thriving. Damage to your facility can significantly impair your revenue stream. We help manufacturers develop continuity plans to get back up and running quickly, retaining key staff members and their most important customers,

Quality Assurance & Quality Control Programs

 A strong Quality Assurance & Quality Control program can defend your product in court. Quality assurance are actions taken to design and manufacture a safe and effective product by building quality controls into the product life cycle whereas quality control are test procedures used to verify that a product is safe and effective after manufacturing is done,
HR Toolkits, plans & policies to keep your team focused on your vision and help you continue to be an employer of choice. With #MeToo and COVID, employee legal action against employers has jumped dramatically,
Workplace safety and compliance plans and policies to keep you compliant with ever-changing customer needs.
---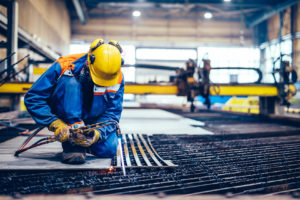 We can support you with …
Insurance Solutions
Property Insurance

protects your facility, equipment, raw materials, work in progress and finished goods,

Protection for Production Machinery

, your processing, and CNC equipment face unique challenges including mechanical breakdown and damage by arcing not protected by other Property insurance,
Business Interruption – when your building or equipment is damaged, your revenue stream may be stopped or impaired. Business Interruption protects your revenue stream while your Business Continuity Plan gets you back up and running.
What about your key suppliers or customers? Have you considered what a significant insurance claim at their facility can mean to your business?
Contingent Business Interruption is a critical element of your business continuity plan protecting your revenue stream from the supply chain or distribution channel interruptions,
General Liability protects your organization from the legal actions of others arising from your operations and products, real or alleged,
Manufacturer's Errors & Omissions when customers suffer financial loss arising from errors in production or specifications, legal action can ensue,
Cyber Risk & Data Breach is a rapidly emerging risk for organizations of all sizes. As manufacturers adopt technologies to optimize production and automate processes, there is often an increase in online business risks. Cybercriminals increasingly view manufacturers as high-value targets for financially motivated cyber attacks like extortion and ransom demands,
Trade Credit & Political Risk Insurance can be essential to protect your accounts receivable and offshore assets either from default of a large customer or project, or a foreign government expropriating your assets, canceling licenses or other events that can impair critical cash flows,
Stock Throughput or Inventory Insurance is unique to manufacturers, insuring your raw materials, work in progress, and finished products anywhere in the world,
Pollution Coverage protects your facility from the escape of pollutants that may be used in your manufacturing process. Additionally, losses or allegations of loss arising from end-users of your product can put you in unique peril. Pollution events pierce the protection afforded by incorporation, putting the assets of owners, directors, and officers at risk of seizure to satisfy polluter pay legislation,
Director's & Officer's Liability owners, board members, and officers of corporations are increasingly held accountable for their business decisions and organizational culture. Whether a competitor alleging interference, an investor looking to recoup a loss or an action brought by a governmental body, officers of private companies are at risk today in ways they never were in the past,
Employment Practices Liability – With #MeToo and COVID, employee legal action against employers has jumped dramatically arising from constructive or wrongful dismissal, failure to promote, breaches of occupational health & safety legislation and much more. Legal costs, time away from your business and reputational damage makes any employee litigation unpalatable. Even if you never lose a legal action, legal defense costs provided by this type of insurance make it a worthy investment,
Automobile liability exposures are often the most significant risks facing organizations,
Employee Benefits & Health Care Spending programs help you stay competitive as an employer of choice,
Group and Individual Personal insurance programs for you, your family, and your team,
Partner, Key Person, Critical Illness, and other Life Insurance solutions protecting you, your partners, and your business.
---
We Can Help!
Thor Insurance and Financial is a locally owned Northern Alberta insurance and benefits brokerage with roots going back to 1979. Our management team has over 100 years of commercial insurance experience, which we leverage to serve our commercial and industrial clients … Local Access, Global Reach.
Running and growing a successful business is complicated. We partner with companies like yours to support the areas of your business you don't have time to become an expert in. No "cookie-cutter" insurance policies; we work with our clients in a holistic fashion to create solutions. In addition to insurance and employee benefits solutions, we offer
Financial Planning, Tax and Succession Advice,
Business Continuity Planning and Business Interruption analysis,
Key Person and Life Insurance solutions,
Cyber Risk Assessments, pre-loss staff training and post-loss remediation,
Human Resources solutions ranging from Safety Manuals, Employee Manuals, customizable Employment Contracts,
Risk control support and development of documentation such as Spill Response plan and Drug & Alcohol policies, Fleet management guides,
Group & VIP Personal Insurance,
Surety/Bonding,
Online Registry, renew your fleet registration from the comfort of your computer